Sino-Tibetan gilt bronze tops seasonal Asian art sales in UK regions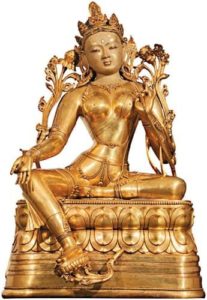 The highest single price posted in the regions during the autumn series of Asian art sales was the £380,000 bid at Duke's (25% buyer's premium) in Dorchester for a monumental Sino-Tibetan gilt bronze devotional figure of Tara broadly dated to the Qing period.
Standing 2ft 5in (72cm) high, she is modelled seated on a lotus-leaf base with beaded borders, the face and headdress retaining a large proportion of the original polychrome decoration.
According to the family, this impressive gilt-bronze left Russia after the Revolution and then remained with the family in London. The estimate had been £30,000-50,000.
img_30-1.jpg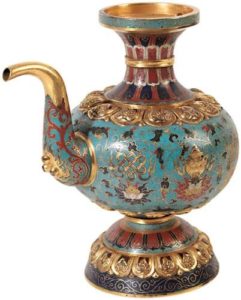 Qing cloisonné Tibetan-style ewer – £190,000 at Duke's.
Catalogued as 'early Qing or later', a cloisonné Tibetan-style ewer took £190,000 at Duke's on December 8.
Standing 8in (20cm), vessels such as this – inspired by earlier kundikas with lotus scroll ornament following early Ming cloisonné vessels – are believed to have been produced for Buddhist altars in the palaces and temples of Beijing and Chengde, where the Qing court had its summer retreat. It had been estimated at £3000-5000.
'Palace loot'
The sale at Lyon & Turnbull on November 5 was topped at £40,000 by a 6½ x 5in (17 x 13cm) Qing cloisonné plaque mounted on a later fitted wooden stand. One side was enamelled with a pair of birds perching on a flowering tree against a navy blue ground; the reverse depicted a walled garden surrounded by water with hills and a pagoda.
It came for sale from a Scottish collection with a handwritten letter from an ancestor suggesting it was originally in the Imperial Palace and looted by the Anglo-Franco troops in 1859 [sic]".
img_30-4.jpg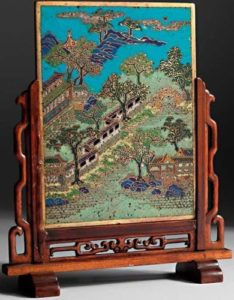 Cloisonné table screen – £40,000 at Lyon & Turnbull.
Cloisonné table screens are relatively uncommon and most published examples appear to have Daoist subject matter as the main theme. A comparable plaque of similar size and dated to the 17th or early 18th century was offered in Bonhams New York in September 2021, selling as part of property from the foundation established by New York collector Asbjorn Lunde (1927-2017) at a more modest $3500 (£2700).
img_30-3.jpg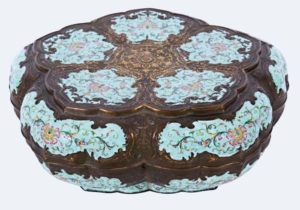 Petal-form gilt-metal box set with panels of turquoise enamel – £40,000 at Keys.
A good example of 18th century Beijing enamel topped Keys' (20% buyer's premium) sale in Aylsham on November 24.
This 18in (39cm) diameter petal form gilt metal box set with panels of turquoise enamel was not in perfect condition (part of the iron red Qianlong mark to the base was missing in an area of loss) but it was a rare shape and size. A Chinese buyer fought off the London trade to buy it at £40,000 (estimate £1000-1500).