The bronze statue has a height of 21.5m and is located at an altitude of 3,075m above sea level.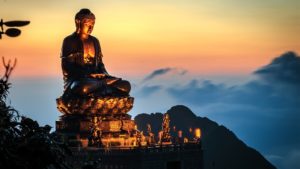 NDO – The Great Amitabha Buddha statue located at Sun World Fansipan Legend in Sapa has been recognised by the World Guinness Records as the cooper statue located at the highest altitude in Asia.
Sun World Fansipan Legend held a ceremony on April 21 to receive the record and mark the 5th anniversary of the launch of the Fansipan cable car system at the Sun tourism complex in Sapa, Lao Cai Province.
The bronze statue is 21.5m tall and is located at an altitude of 3,075m above sea level.
The structure was cast in bronze by placing tens ofthousands of 5mm thick copper sheets over an iron framewith a total weight of 62 tonnes.
The Fansipan cable car system is 3,143m above sea level, starting from Muong Hoa Valley and reaching the peak of Fansipan Mountain.
It has a transport capacity of 2,000 passengers per hour with each cabin capable of accommodating 30-35 people, helping to shorten the two-day journey to reach Fansipan's summit to just 15 minutes.
The Fansipan cable car currently holds two world records,including the biggest height gap between its departure and arrival stations at 1,410m, and the world's longest three-wire cable car at 6,292m.