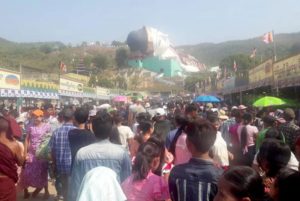 A Buddha Pujaniya festival of the world's largest reclining Buddha image in the compound of Win Sein Tawya Monastery in Mawlamyine, Mon State, was held in conjunction with the 99th birthday anniversary of the late abbot of the monastery, the donor of the image, on January 19.
On the occasion, meals were fruits were offered to the Buddha image, the current monastery abbot and monks. Moreover, a new (Thingan) robe was offered to the remains of the Buddha image founder.
It has been 26 years since the birthday ceremony of the late venerable monk.
The event also includes a traditional boxing contest in which boxers from Myanmar, Thailand and Iran will be participating. Theatrical plays and music shows are also being held.
The declining Buddha image is 180 meters long and 30 meters high.
The image founder and Win Sein Tawya Monastery Abbot Abhidhaja Agga Maha Saddhama Jotika Dr Bhaddanta Kesara died of a heart attack on April 26, 2025.