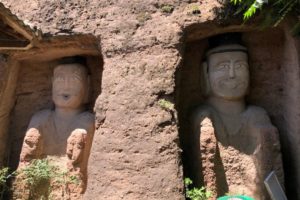 The Laughing Buddha statues, dating back over 1500 years, were restored after a village crowdfunding project. But some think that the restoration went a shade too far.
Rib-tickling images emerging from a small Chinese town show that the notorious "Monkey Christ" isn't the only hilarious art restoration on the block.
Fourteen 'Laughing Buddhas' with side-splitting expressions were photographed by a blogger and amateur historian during a visit to the town of Shibao in Xihe County, which is in China 's north-western province of Gansu, on 19th June.
The 2,000-year-old cave carvings of smiling Buddhas had been restored and repainted during a village crowdfunding campaign in the 1990s.
The comical images show a pair of stone Buddhas with hilariously exaggerated smiles, with the general public now finding it difficult to believe that they appear anything like their original creators intended.