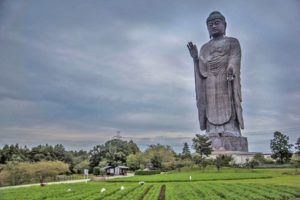 By THERON GODBOLD | Stars and Stripes | Published: December 19, 2019
If you've ever taken the Ken-o Expressway to Narita airport, you passed an unforgettably large statue of Buddha.
About two hours northeast of Yokota Air Base, in a suburb of Tsukuba called Ushiku, the Ushiku Daibutsu, a bronze statue built in 1993 and nearly 38 stories tall, was once listed by Guinness World Records as the world's tallest statue of Buddha. It was unseated by the Laykyun Sekkya Buddha in Myanmar.
It is still the tallest Buddha in Japan. By comparison, the Ushiku Daibutsu at 390 feet is more than 300 feet taller than the well-known seated Great Buddha of Kamakura.
Visitors must remove their shoes upon entering the hollow statue. A bag is provided to store them. Illuminated busts of Buddha fill the darkened first story and the sounds of wind and chimes fill your ears.
Climb the stairs to the second floor where you'll find a small museum that recounts the building of the statue. It's filled with photographs taken during construction and holds a replica of the Buddha's toe.
Ushiku Daibutsu in Tsukuba, Japan, is the world's third tallest bronze Buddha statue at nearly 400 feet tall.
THERON GODBOLD/STARS AND STRIPES
From the second floor, an elevator climbs another 250 feet to an observation area, where on a clear day you can see the Tokyo Skytree, the world's tallest tower.
The World Lotus Sanctuary is just beneath the observation deck. Here, more than 3,000 golden Buddhas line the wall. Continuing down a flight of stairs, you will find a small gift shop and elevator access to the ground floor exit.
Outside is a park more than a mile square and built to commemorate the birth of Shinran, founder of the Pure Land sect of Japanese Buddhism.
The park is filled with paths that wander throughout the grounds past picnic areas, and a large koi pond where the fish will nearly throw themselves out of the water for the feed pellets you can buy from a small stand.
You might even find yourself in the small petting zoo or catching a monkey show.
article continues below
Open 365 days a year, the Ushiku Daibutsu might be a little out of the way for some, but it's a pretty big deal — literally.
godbold.theron@stripes.com
Twitter: @therongodbold
DIRECTIONS: Address: 2083 Kunocho, Ushiku City, Ibaraki Prefecture 300-1288. From the Ken-o Expressway, head toward Narita for about two hours and look for the Buddha exit in English. Ample parking in several lots is free.
TIMES: October through February: open daily, 9:30 a.m. to 4:30 p.m. March through September: open 9:30 a.m. to 5 p.m. on weekdays and 9:30 a.m. to 5:30 p.m. on weekends and holidays.
COSTS: Admission is about $8 for ages 13 and up and $4 for ages 4-12. Children 3 and younger are admitted free.
FOOD: A small restaurant at the entrance to the Buddha serves basic Japanese fare like curry.
INFORMATION: Phone: 029-889-2931; Online: daibutu.net