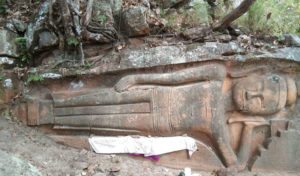 Experts from the Ministry of Culture and Fine Arts are planning a visit to Kuk mountain in Pursat province, where an ancient Buddhist carving was found last week.
Lach Phengly, provincial director of the Culture and Fine Arts Department, yesterday said villagers alongside members of the CPP provincial working group on Thursday came across an ancient carving on a stone wall in Krakor district's Kuk mountain.
"The officials cleaned the carving so that we could see it better, but still we could not tell when the statue was made," Mr Phengly said. "I have asked the Minister of Culture and Fine Arts, Phoeurng Sackona, to send experts to check the carving."
Mr Phengly said some people believe the relic was carved during the Chenla period while others think it was made during the Norkor Phnom period.
He said experts from the Ministry of Culture and Fine Arts will arrive at the site on Tuesday or Wednesday.
"It looks like a Buddhist monk sleeping or perhaps dying," Mr Phengly noted. "I do not think this place used to be a temple. I think it was just a place where people lived, but because they loved and respected Buddhism they decided to do this carving."
The villagers and the members of the CPP working group also found some clay pots that they believe were made during the 19th century.
Mr Phengly said he will work with authorities to protect the site and turn it into a tourist attraction.
"We will continue exploring the mountain for more relics," he noted.