During archaeological excavations to repair the Takav Gate, experts found statues of giants and angels on the drawbridge of Takav Gate, as well as other relics which were cleaned and preserved.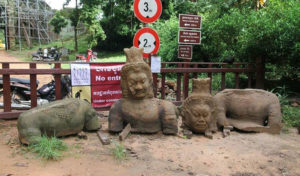 Archaeology Officer of the APSARA Authority, Kim Seng Pheakdey, said that during the 3 weeks of archaeology excavations to repair the Takav Gate, the team found 3 heads of giant statues and the upper half torso of three other statues. They also found the torsos of 4 Asura statues, heads of 3 statues of deities, of which 2 were complete and 1 only had the shoulders to the lips.
Pheakdey said that after the team found the sculptures, the team cooperated with the heritage police to register, document, and store the relics at a repair site.
The Takav gate is one of the five gates of Angkor Thom, located to the west of the Bayon Temple.