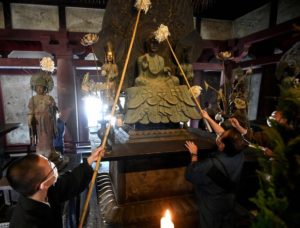 IKARUGA, Nara — Buddhist statues at the World Heritage-registered Horyuji temple here were dusted down on Dec. 8 in an annual December cleanup to prepare for the coming year.
Monks including head priest Shokaku Furuya held a ceremony at 10 a.m. before starting the cleanup work. Using dusters made by attaching Japanese "washi" paper to the tips of bamboo sticks and brushes, about 10 monks carefully removed dust from Buddha with his two attendants — a trio of statues designated as national treasures — in the temple's Kondo main hall.
The statues of the Yakushi triad (the Buddha of medicine and healing with a pair of bodhisattvas) in the Daikodo great lecture hall, and the statue of Kuse Kannon, which was built in the likeness of the sixth-to-seventh century Japanese prince Shotoku Taishi, in the Yumedono hall of dreams — all designated national treasures — were also cleaned up.
Furuya commented, "By removing dust accumulated over the year, we'd like to enter a new year on a new note."
The annual cleanup began in 1994, a year after Horyuji was registered as a World Heritage site.