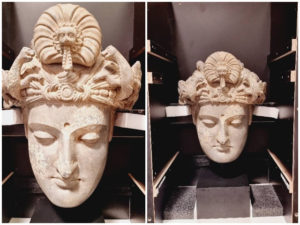 RAWALPINDI:
In order to introduce the present generation to the world's oldest civilisation, the Gandhara festival will be held under the aegis of the Rawalpindi Arts Council later this month.
The two-day Gandhara festival will be held on January 29 at the Gandhara Centre, Taxila Museum, while the five-day art exhibition will be held at the Rawalpindi Arts Council from January 31 to February 4.
The festival, featuring exhibitions, panel discussions and storytelling sessions, aims to protect the cultural heritage of the region.
The Gandhara civilisation is one of the oldest civilisations in the world which flourished from the middle of the first millennium BCE to the beginning of the second millennium CE, in what is present-day northern Pakistan and Afghanistan.
The area of the Gandhara civilisation covered the present-day districts of Taxila, Peshawar, Swat, Kohat, Dir, Bajaur and Mardan in Punjab and Khyber-Pakhtunkhwa provinces.
According to Greek historians, Taxila, the central city of the Gandhara civilisation, was thickly populated and extremely fertile, as the mountains gradually subsided into plains.
The people of Gandhara were industrious and practised agriculture. Gandhara is a Sanskrit word, that has two meanings including the land of fragrances and the land of water.
The history of Gandhara shows the political rule of multiple dynasties over the centuries. A strategically located city and the centre of ancient trade routes, Taxila suffered repeated ownership conflicts and was destroyed and rebuilt multiple times.
When Alexander the Great launched the attack in 326 BC, he caused great harm to the local people. He brought with him a strong Greek influence to this part of the world.
In 1914, when the British invaded the area, an important box containing the ashes of Gautama Buddha was found in Taxila.
Ashes of Siddhartha Gautama, most commonly referred to as the Buddha, were sealed in 14 chests and preserved in 14 different regions. Such chests are also preserved in museums in Peshawar, Lahore and London.
The statues of Buddha were made of a special stone that comes from the mountains of Swat, Dir and Buner.
Rawalpindi Arts Council Director Waqar Ahmed told The Express Tribune that the Gandhara Festival and Gandhara Art Exhibition have been organised to promote the ancient civilisation.
The Gandhara festival will include an art exhibition, a book fair, a folk dance and a Sufi night, he said. The event will be inaugurated by the provincial Minister for Sports and Culture Malik Taimoor Masood, he added.
A documentary on the history of the Gandhara civilisation will also be shown.