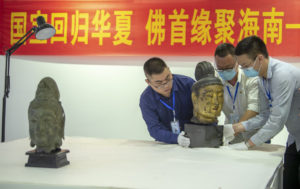 HAIKOU, May 27. /TASS/. Two heads of Buddha were unveiled this week at the Museum of Culture and Art in Ronghuihe Complex Bonded Zone in Hainan's Haikou, reported the Hainan Daily.
According to the newspaper, in January 2021, the relics were purchased at an auction in France, and on Monday this week they were delivered to Haikou.
One of them – the bronze head of Buddha – belongs to the Tang dynasty (618-907). The second, the gilded head of Buddha made of bronze, belongs to the Song dynasty (960-1279).
According to Hainan Daily, in order to organize the unhindered import of relics to Haikou, a special mechanism was set up by the local customs authorities in conjunction with Ronghuihe Complex Bonded Zone.
As the newspaper writes citing representatives of Hainan Angfei trading company, which was engaged in the delivery of relics to Hainan, in the future the company intends to further promote "the return of artifacts to their homeland."