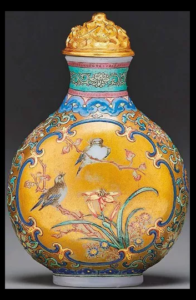 A collection of Chinese snuff bottles offered in two sessions stands out among an intriguing selection of Asia Week New York auctions and dealer shows.
Picture of Anne Crane
This enamelled glass Qianlong mark and period snuff bottle made at the Imperial Palace workshops is a highlight from the Rachelle R Holden collection of snuff bottles to be offered by Christie's. The 2in (5cm) high bottle, which has a Qianlong four-character incised seal mark, is decorated with a shaped panel of two birds perched in flowering branches to one side and a butterfly amid flowers to the other. It will be offered on March 24 and has an estimate of $400,000-600,000.
Image: Christie's Images Ltd 2022
Share:
You have 2 more free articles remaining
Subscribe for full access
In the auction, art and antiques calendar March in the Big Apple is a month when the spotlight traditionally falls on Asian art.
It is the time of year when the main international firms hold the first of their biannual New York Asian auction series and, since 2009, it has been the time when specialist dealers in this field collectively stage a series of selling exhibitions in the galleries around Manhattan.
It all falls under the umbrella of Asia Week New York (AWNY), an annual celebration of Asian art encompassing auctions and dealers' shows alongside exhibitions in museums.
For this year's AWNY, running from March 16-25, six auction firms are taking part: Christie's, Sotheby's, Bonhams, Doyle, Heritage and iGavel. There are 26 participating dealers, with more present in person than last year when covid meant many dealers opted for a virtual presence.
Over the next five pages we give a taste of what will be on offer in the auction rooms and dealers' galleries and, as always, much more information can be found on the AWNY website.
asiaweekny.com
Heritage
img_36-1.jpg
Among Heritage's highlights is this pair of 18th century, Chinese Imperial Qing dynasty carved zitan lanterns measuring 2ft 2in x 13¾in (66 x 35cm). They have a provenance to a private collection in New York and are estimated at $50,000-70,000.
Image: Heritage auctions (Ha.com)
Heritage has an Asian art auction in Dallas on March 22 and will be previewing highlights from the sale in New York from March 16-21.
ha.com
Doyle
img_36-3.jpg
One of the highlights of Doyle's March 21 auction will be this large 19½in (49.5cm) celadon Dragon charger with a Yongzheng seal mark and of the period. The central medallion features a dragon among clouds while the underside is moulded with overlapping lotus petals. The charger, which comes with a labelled Japanese wooden collector's box, has a provenance to the collection of an American Civilian Educational Coordinator stationed in Japan, 1948-51, and then by descent. The estimate is $80,000-120,000.
Doyle is holding a live auction of Asian Works of Art in New York on March 21 as well as a timed auction titled Asian Works of Art: Session II which closes on March 25.
doyle.com
Christie's
A huanghuali trestle-leg table
One of the highlights of Christie's March 24-25 sale of Chinese ceramics and works of art is this 17th century huanghuali trestle-leg table. It has a single plank top measuring 10ft 2in (3.1m) set over beaded aprons and spandrels carved with elephant heads, and is raised on legs with outswept feet joined by an openwork panel carved with chilong. The estimate is $800,000-1.2m.
Image: Christie's Images 2022
Christie's auction schedule for Asia Week New York comprises a mix of live and online, various owner and single-owner sales across a wide range of Asian art categories, ancient and contemporary.
Offered in two sessions – one online from March 15-29, the other live on March 24 – will be Rivers and Mountains Far from the World: Important Chinese Snuff Bottles from the Rachelle R Holden Collection.
The sales take their title from the scholarly catalogue published in 1994 by the late collector who purchased her first snuff bottle in 1974. The two sales between them offer over 220 bottles made from a variety of materials: glass, porcelain, hardstones and enamelled metal.
A highlight of the collection is a Qianlong mark and period famille rose enamelled glass bottle from the Imperial Palace workshops which has an estimate of $400,000-600,000.
Christie's auction of Japanese and Korean Art on March 22 will include 20 lots of Buddhist paintings from the collection of David and Nayda Utterberg, while the March 23 South Asian Modern and Contemporary Art sale features works from the collection of Mahinder and Sharad Tak, long-time patrons of the arts.
The Banyan Tree by Bhupen Khakhar
Among the paintings from the Mahinder and Sharad Tak collection to feature in Christie's South Asian, Modern and Contemporary Art auction on March 23 is this monumental oil on canvas The Banyan Tree by Bhupen Khakhar (1934-2003). The square
canvas measuring 5ft 9in x 5ft 9in (1.75m x 1.75m), incorporating a series of vignettes within a hilly landscape, was painted in 1994 and acquired direct from the artist. It is signed and dated in Gujarati lower right and further titled and signed The Banyan Tree/Bhupen Khakhar on the reverse and has an estimate of $1.8m-2.5m
Image: Christie's Images Ltd 2022
Works on offer from the latter collection include paintings by Bhupen Khakhar, Manjit Bawa, Arpita Singh and Sayed Haider Raza as well as works by Maqbool Fida Husain, Rameshwar Broota, Jogen Chowdhury and Jagdish Swaminathan, all close friends of the collectors.
christies.com
Bonhams
Bonhams' programme of auctions for Asia Week New York includes live and online-only sales ranging across Chinese works of art including the Richard Milhender export furniture collection; Japanese and Korean art; a single-owner sale of Chinese paintings and calligraphy; Indian, Himalayan and south-east Asian art and Burmese silver.
Goddess Tara
A 13th century Nepalese gilt-copper figure of the goddess Tara to be offered by Bonhams on March 22 estimated at $500,000-700,000.
The auction house's headline lot is a gilt copper alloy figure of the Buddhist saviour goddess Tara from Nepal dating from the early Malla period (13th century) which will feature in the March 22 sale of Indian, Himalayan and south-east Asian Art.
The figure has come from the collection of Michael Henss, a noted Himalayan art scholar, and retains remnants of cold gold and blue pigment to the face and hair indicating its prior worship in Tibet. The estimate is $500,000-700,000.
Woman Holding a Flower picture
Woman Holding a Flower, a 4ft 3½in x 2ft 3in (1.3m x 69cm) hanging scroll from 1948 by Zhang Daqian (1899-1983), one of the highlights from the Rev Richard Fabian collection of Chinese paintings and calligraphy to be offered by Bonhams on March 21. It has an estimate of $800,000-$1.2m.
On March 21 Bonhams will offer the fourth instalment of paintings and calligraphic works from the collection of the Rev Richard Fabian. Founder and rector of San Francisco's ecumenical St Gregory Nyssen Episcopal church, he first discovered Chinese paintings while majoring in Chinese art at Yale University in the 1960s and spent over three decades forming a panoramic collection spanning the 200-year development of modern Chinese paintings. Part 5 of the Fabian collection will be offered as an online sale from March 14-24.
Burmese silver betel box
Burmese silver betel box decorated with Buddhist scenes of the Sama Jataka dated 1909, estimated at $40,000-60,000 in Bonhams' online sale of the Noble silver collection.
The online component of Bonhams' Asia Week sales also includes the March 14-24 sale of the Noble Silver Collection: Treasures from the Burmese Silver Age – works produced by Burmese master silversmiths between the mid-19th and early 20th century.
Burmese silver catered largely to a domestic market producing objects designed for traditional south-east Asian customs such as betel culture and temple offerings including a silver betel box dated 1909 from lower Burma (Myanmar).
bonhams.com
Sotheby's
Archaic bronze ritual vessel
Another of the highlights from Sotheby's March 22 sale of works from the Dr Wou Kiuan collection is this archaic bronze ritual vessel (fangyi) from the late Shang dynasty, Anyang, 12th century BC. The form and design represent Chinese bronze art at its height when the Anyang style had reached its mature phase. Only a small number of fangyi with related decoration have been recorded with others in institutions such as the Shanghai Museum and the British Museum. The estimate is $400,000-600,000.
Image courtesy of Sotheby's
Sotheby's Asia Week auctions will feature the first of a series of four single-owner sales from the Dr Wou Kiuan collection to be held globally through 2022.
It spans 4000 years of Chinese culture and art history featuring more than 1000 works including pottery, porcelain, jades, bronzes, paintings and calligraphy and is estimated to achieve over $40m.
Wou Kiuan, the son of Wou Lien-Pai, a prominent politician instrumental in the reformation of China in the Republic period, settled in London after his retirement devoting his time to the study of Chinese archaeology and art. From the mid-1950s to 1960s he built up a collection representing every category of Chinese art. In 1968 he created a private gallery in his home titled the Wou Lien Pai Museum in honour of his father.
Cinnabar lacquer dish
A 14th century cinnabar lacquer dish carved with hisbiscus flowers that will feature in Sotheby's March 22 sale of works from The Dr Wou Kiuan Collection Part I. The depiction of the flowers includes a naturalistic detail seldom captured in artistic renderings of the motif: all three blooms show a tiny five-pointed floret protruding from the petal tips representing the stigma. The estimate is $100,000-150,000.
Image courtesy of Sotheby's
This first sale from the collection takes place in New York on March 22 under the title A Journey through China's History: The Dr Wou Kiuan Collection Part I.
Among its highlights will be the 14th century carved cinnabar lacquer 'hibiscus' dish shown here. Dating from the peak period of Chinese lacquer craftsmanship, the late Yuan/early Ming dynasty, its decoration is unusual in being limited to three blooms among foliage, a design more typically seen on much smaller pieces.
Sotheby's Asia Week schedule also includes a live auction of Modern and Contemporary South Asian art on March 21 and an online auction, China/5000 years, running from March 16-29.