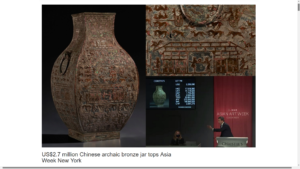 Christie's Important Chinese Ceramics and Works of Art Sale delivered glittering results.
Amongst 351 lots offered in two parts, 294 were sold – a US$31 million dollars sale total and 83.7 per cent sale rate was achieved – far exceeding expectations.
The most valuable lot was a bronze jar from ancient China fetched US$2.7 million dollars with buyer's premium. Alongside the bronzeware, a 900-year-old Guanyin sculpture and 17th century huanghuali table each sold for more than US$2 million dollars, and were the sale's second and third most expensive lots.
The archaic bronze jar was hammered at US$2,250,000 dollars
Lot 719 │ Inlaid Bronze Facted Jar, Fanghu
Created during Warring States period (4th-3rd century BCE)
Height: 43 cm
Provenance:
Kaikodo, New York, before 1996
Estimate: US$400,000 – 600,000
Hammer Price: US$2,250,000
Sold: US$2,760,000
The auctioneer started the bidding at US$300,000 dollars, and dropped the hammer at US$2.2 million dollars – more than 5 times its low estimate. In the end, it fetched US$2.7 million dollars, with buyer's premium.
The four-sided vessel is set with loose rings suspending loose ring handles on opposite sides, and is decorated on each side with elaborate pictorial scenes arranged in horizontal registers. The flat, raised bronze motifs of the scenes are silhouetted against a sunken background bearing extensive remains of an inlaid paste. The bronze of the raised motifs has a brownish-red and green patina.
Ancient Chinese bronzewares were decorated with different creatures – such as taoties (mythological creatures), dragons, phoenixes and owls. Patterns were later based on human activities – reflecting the people's living conditions of the period and are precious visual historical materials.
This present bronze jar has two group of carvings portraying scenes of feasting, hunting and fighting on land and sea.
The first group of motifs portraying scenes of feasting, hunting and land and naval battles
First group – with layers from top to bottom:
A sun and moon are found on the upper right and left, while various food utensils are found in the room. The characters on the first section hold wine vessels, and those on the second section raise their glasses to greet them.
Musicians play stone chimes (bianqing), chime bells (bianzhong) and drums.
A line of eight female dancers dressed in robes.
Hunters wielding bows and arrows or spears – some in carriages and on foot – are chasing animals such as deer, rabbits, tigers and wild boars.
At the Palace's Grand Hall, there are two birds on either side of the roof. Guards are standing on patrol outside, while two people exchange a disc inside. Below the Palace is a row of four horses with reins and stablemen, and a row of four hunted and bleeding tigers are found further below.
The lowest single-story building has a cauldron inside – possibly a kitchen.