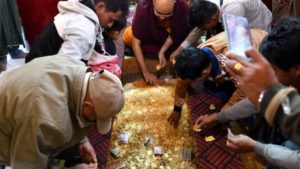 Devotees are returning in greater numbers to a central Myanmar temple, built around the gold-lined footprints of Buddha, after the Covid pandemic and a military coup curbed the annual pilgrimage.
Advertising
The Shwe Sat Taw pagoda in the Magway region, west of the military capital Naypyidaw, was built around footprints that, according to myth, the Buddha left during a visit more than 1,000 years ago.
The three-month festival usually takes place between February and April each year, although visitor numbers have been down in recent years because of Covid travel restrictions and violence following the February 2021 coup.
Temple trustees, to the delight of pilgrims in Buddhist-majority Myanmar, raised a heavy glass dome on Wednesday that seals the footprints from the region's searing humidity.
A queue formed to spread gold leaf in the hollows of the larger-than-life-size imprints, adding to the sheen laid down by generations of pilgrims.
Families at another riverside shrine nearby offered flowers and banknotes, while children splashed happily in the water.
Even those few thousand pilgrims who made the journey were well down from the crowds that once thronged the riverside.
Swaths of Magway have been ravaged by fighting since the coup. The military has been accused of torching villages and carrying out extrajudicial killings as it struggles to crush opposition to its rule.
"I come to this festival every year to donate flowers," said Than Than, who had travelled hundreds of kilometres from Mandalay.
Vendor Yee Mar, from Monywa in neighbouring Sagaing region, said from her stall near the pagoda that she hoped more pilgrims would come.
"The Shwe Sat Taw festival was very popular and crowded in the past," she told AFP.
"I hope to sell many products during this festival and earn some money."
Many other stalls stood empty but temple trustee Win Htay said he hoped people would take advantage of the relative calm.
"I'm happy to see many people have come to the opening ceremony today who couldn't come in recent years," he said. "This area is peaceful."