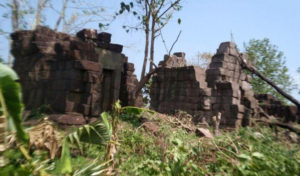 Preah Vihear provincial authorities discovered remnants of an ancient sandstone temple at Kulen Tboung commune in Kulen district yesterday.
Called Neang Ngor, the abandoned temple is located three kilometres away from Ba Taing temple in Kulen Tboung village.
Nov Chankong, director of Preah Vihear provincial Department of Culture and Fine arts, said yesterday that they found the abandoned temple.
"Experts concerned are preparing to study about the architectural style and age of the temple. Now it is difficult to guess how old it is, or when it was built, or for what purpose it was built," Chankong said.
"The people of Kulen Tboung village are familiar with the temple, but they didn't pay attention to it until Preah Vihear authorities found it," said Um Bo, a temple guard in Srayong commune.
He added that Srayong is 20 kilometres away from Kulen Tboung commune where the new temple has been found.
The temple is small in size, incomplete and has deteriorated due to weather conditions in the forest. Constructed with huge sandstone blocks, the temple resembles a structure of architectural excellence.
The roof is still intact and there are sandstones scattered all around the ground.
As a first step, the authorities cleared trees surrounding the temple in order to prevent them falling on top of the temple during gales, which could cause more damage to the existing structure.
It seems Neang Ngor was abandoned many years ago because no other temples are nearby, thus limiting any chance for national and international tourists to find it.
"Neang Ngor temple is very simple with no fine art features, but it has a heritage value," Bo said.
He hoped that the authorities will restore the site soon so it can attract researchers to come and study about it in future.