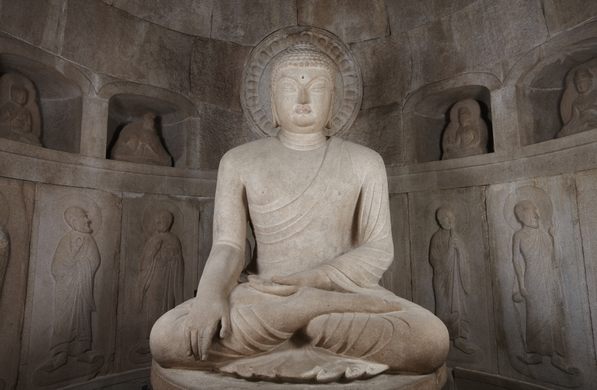 A monumental statue of the Buddha sits on the slopes of Mount Toham, looking out to sea. It is the heart of Seokguram Grotto, a Buddhist temple built in the 8th century.
Kim Dae-Seong, a Prime Minister of the Silla Dynasty initiated and supervised the construction of both a temple and a grotto at Mount Toham. It is said that he had the temple built in memory of his parents in his present life, and the grotto in memory of his parents from a previous life.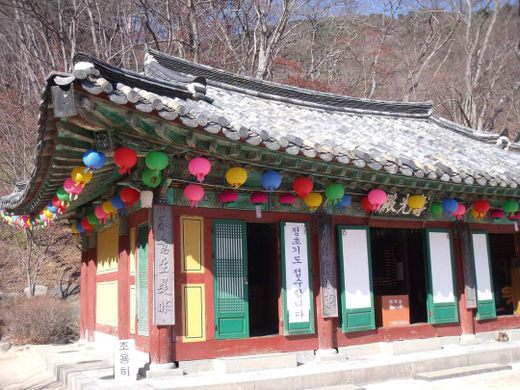 Work was completed on the grotto in 774, shortly after Kim's death. Due to the small size of the grotto it is thought that it was probably used exclusively by the Silla royalty who took over its construction after Kim passed away.
The tradition of carving images of Buddha from stone into cliff walls and natural caves began in India. The practice traveled to China and then to Korea. The practice took on a slightly different construction method in the Korean Peninsula, in part because of the large amount of granite. Seokguram Grotto is an artificial grotto made from granite. It contains an antechamber, a corridor, and a main rotunda. The domed ceiling of the rotunda and the entrance corridor required the use of more than 360 stone slabs.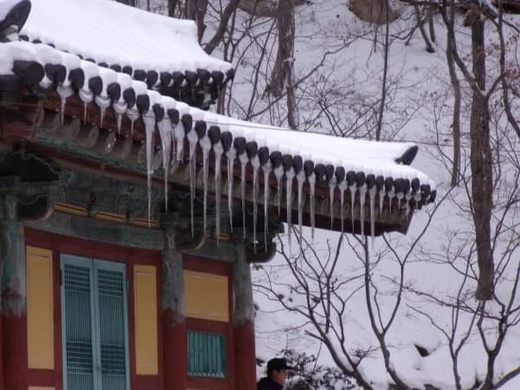 The layout of Seokguram is symbolic of a spiritual journey into Nirvana. Pilgrims started their journey at the nearby Bulguksa Temple or at the base of Mount Toham. The image in Seokguram portrays the enlightenment of Buddha, and Bulguksa represents a Buddhist utopia.
The grotto enshrines a monumental statue of the historic Buddha, Sakyamuni, looking out over the Sea of Japan, from its vantage point 750 meters above sea level. The Buddha is seated cross-legged on a lotus throne. His left hand in the dhyana mudra, a gesture representing concentration, and his right hand in the bhumisparsa mudra, the "earth-touching" gesture that represents the moment of Buddha's enlightenment.
Surrounding the statue are 15 panels with images of bodhisattvas, arhats, and ancient Indian gods. Ten more statues sit in niches around the Buddha.
The Buddha statue, along with the surrounding gods, Bodhisattvas, and disciples, is considered a masterpiece of East Asian Buddhist art. It was designated as National Treasure of Korea number 24 by the South Korean government in 1962.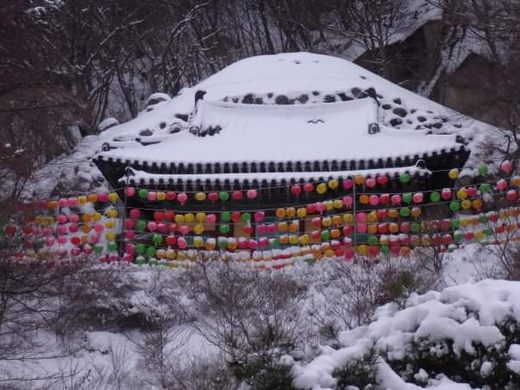 Know Before You Go
Pair it with Bulguksa, the National Treasure of Korea filled temple nearby.
Take Bus 10 or 11 from Gyeongju Intercity/Express Bus Terminal. This will take you to the Bulguksa Temple. From there, take Bus 12 to the grotto.