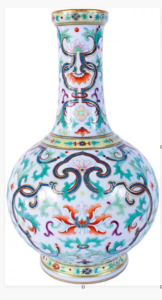 This rare doucai porcelain vase, with Qianlong marks and probably of period, provided a classic tale of discovery in the saga of the Chinese boom.
The 8in (20cm) tall vase was spotted by Hannam's (23% buyer's premium) junior specialist David Parry among brica- brac during a routine valuation.
As with all the best tales, the owner, whose father bought it in Hong Kong in the 1980s, had no idea of its worth.
A near-identical mid-18th century vase is illustrated in the 1993 Taiwan publication Yeh Pei- Lang, Gems of the Doucai.
Accordingly, auctioneer Harry Hannam pitched it at £10,000-15,000 at the May 3 sale in Selborne, Hampshire.
Four phone bidders from Asia competed but it was a UK private buyer in the room who, literally, jumped for joy when he won the bidding battle at £105,000.