Buddha pendant found at Mohenjo daro: Due to heavy rains in Pakistan, life has become paralyzed. During this rain, a unique antiquity has been found near Mohenjo-daro, an archaeological site in Sindh province, which is called 'Buddha pendant'. Now the opinion of experts has been sought to establish the manufacturing period and age of this pendant. After heavy rains on August 3, this object of archaeological importance was found from the southern Dixit area of ​​Mohenjodaro.
Statue found in depth after rain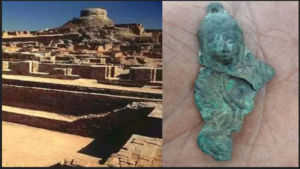 According to Dawn news, tourist guide Irshad Ahmed Solangi, a resident of Dhanad village located close to the archaeological site, said on Thursday that he had found the object at a deep place after heavy rains. After getting this pendant, Irshad immediately informed about it to the patron of the place, Naveed Sangha. Ali Haider, senior conservationist of the Department of Archeology also confirmed that the unique object has come to the fore due to heavy rains.
Mohan Lal, a former chief engineer of the Department of Archeology and Museums and currently working as the project director of the Endowment Fund Trust (EFT), identified the object as a 'Buddha pendant' after examining it. He told that this rare find can be used to link the missing history and for this further study will be done. A senior official of the Culture Department said that the object looks like a pendant worn by people around the neck.
Taking help of experts
He said that finding a pendant at this place may be a rare find and only experts can tell whether it is made of bronze or any other material. He said that he can also find out its historical value. Mohenjodaro's patron Naveed Sangha said that we have contacted an expert working in the Department of Culture to know about the construction and age of the object. Ali Haider Garhi, a senior conservationist in the department, said the small statue has come to the fore due to heavy rains.
Mohenjodaro is an archaeological heritage site discovered by the Indian archaeologist RD Banerjee in 1922. It is located in the Sindh province on the eastern side of the Indus River. Spread over 618 acres, it is the largest and best preserved center of the Indus Civilization (2600–1900 BC).