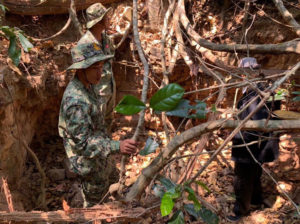 Officials in Stung Treng province have discovered the foundation of a sixth century temple during a survey in a biodiversity conservation corridor in Borei O'Svay Senchey district.
The foundation and an ancient pond nearby were found on Tuesday during a joint survey carried out by the provincial environment and culture and fine arts departments in Ou Svay commune's Rithy Senchey village.
Eng Phearong, director of the Stung Treng provincial environment department, said yesterday preliminary research showed the temple was built in the sixth century, as the foundation was made up of large bricks.
"We still do not know the name of the temple, as we have just discovered it," he said. "Experts will do a detailed study to find the name, size and height of the temple."
"The area will be designated as a heritage conservation site," Mr Phearong added.
He said the foundation was 10 metres long and 20 metres wide and is in a fragile condition and was partially hidden by undergrowth.
Som Thon, head of the Cultural Heritage Bureau of the provincial culture and fine arts department, said that yesterday it is the seventh ancient temple that has been recently found by officials in the area.
He said that according to the ministry's policy, when a new ancient temple is found 30 metres to 300 meters of the surroundings would be designated as a conservation area.