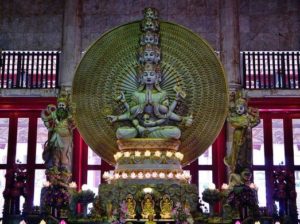 The largest monastery in Singapore is home to a crematorium, a college, and one of Asia's largest indoor Buddha statues.
Resting amidst a mix of residential buildings and industrial estates is the largest monastery in Singapore. Built in 1921, Kong Meng San Phor Kark See Monastery, or Bright Hill Temple, is a Buddhist temple complex founded by Venerable Zhuan Dao
Originally, the complex housed only two shrine halls. But after Venerable Hong Choon took over as abbot in 1947, the monastery expanded rapidly. Today, it sits on more than 800,000 square feet of land, roughly the size of 14 football fields. The complex also has many amenities, such as multiple prayer halls, bell and drum towers, a crematorium, and two columbaria. In 2006, the Buddhist College of Singapore opened on the compound, offering bachelor's and master's programs in Buddhism to English and Mandarin speakers.
Between the Dharma Hall and the Pagoda of 10,000 Buddhas, visitors will find an enormous statue of the bodhisattva Guan Yin. One of Asia's largest indoor Buddha statues—made from bronze, measuring 45 feet in height, and weighing many tons—sits in the nearby Hall of No Form. The grounds are large, with gardens and a Dragon Pond that are decorated during celebrations. You can also find a Bodhi tree next to the Hall of Amrita Precepts, the same species of tree under which Shakyamuni Buddha achieved enlightenment.
Though it is often bursting with people during Buddhist celebrations such as Vesak Day and the Mid-Autumn Festival. Laypeople regularly visit the monastery to seek refuge from the large crowds and hectic pace of Singapore. On Sundays, and on the 1st, 15th, and 27th days of the lunar month, free vegetarian food is served in the dining hall.
Know Before You Go
Parking is limited, so public transit is recommended during holidays and events. From Bishan MRT, take bus 410W or 52, which will take you straight to the monastery. Most halls open from 8 a.m. to 4 p.m. Wear attire that covers the shoulders and knees; at some halls, you may be asked to leave your shoes at the door.