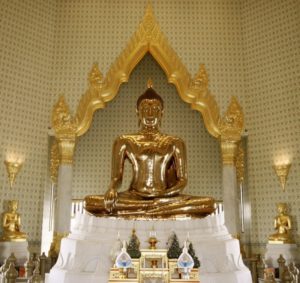 Various types of sculptures exist in many countries of the world. However, statues of Lord Buddha are also present in many countries and some are so old that no one knows when they have been made and who has made them. The world's largest Buddha statue is in the southwestern Sichuan province of China, which took more than 90 years to build. The construction of this huge stone statue began in the year 713 during the reign of the Tang Dynasty (618–907), but do you know where the world's largest gold statue is located? Actually, this idol is of Lord Buddha, about which there are many surprising stories.
This statue of Lord Buddha is called 'The Golden Buddha'. This statue is located in the 'Wat Tremit' temple of Bangkok, the capital of Thailand. The 9.8 feet tall statue weighs around 5500 kg. Although this statue is not for sale, still its value was estimated at around 19 billion rupees according to gold.
This idol was hidden from the world for many years. The story of its discovery is also very strange. Till 1954, people did not know about it that this idol is completely gold because at that time plaster was mounted on the idol. When a new building was built in the temple to keep the statue and it was being relocated in 1955, the statue accidentally fell to the ground, causing its plaster to crumble and its reality to the public. Later a big building was constructed in Wat Tremit temple to keep this idol and a gold statue of Lord Buddha was installed there. They also say that this gold statue was plastered so that it could be saved from theft. It is believed that the plastering of the statue must have been completed by the invaders of Burma in 1767 before the destruction of the kingdom of Ayutthaya.