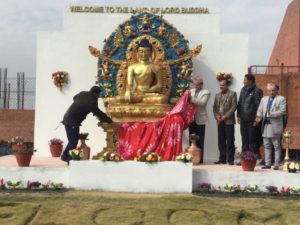 KATHMANDU: An idol of Lord Gautama Buddha has been installed at the premises of the Tribhuvan International Airport (TIA).
Minister for Culture, Tourism and Civil Aviation Yogesh Bhattarai said the idol was installed as a part of the project to convert the country's only international airport into a boutique airport.
Minister Bhattarai unveiled the idol that weighs one ton on Saturday.
He hoped that it will help to promote Visit Nepal Year 2020 and help Nepal be recognized as the birthplace of Lord Buddha.