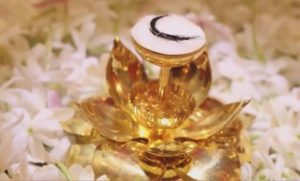 BANGKOK – The government would like to invite Buddhists in Thailand to pay their respects to the hair relics of the Lord Buddha at Bowonniwet Vihara temple in Bangkok from December 10, 2019, to January 10 next year.
The Head of the Buddha Relics Invitation Project, Adisak Panupong, and the President of the Do D Foundation, Danai Chanchaochai, announced that the Lord Buddha's relics from Manelwatta temple in Sri Lanka will be exhibited at Bowonniwet Vihara temple to celebrate His Majesty King Maha Vajiralongkorn Phra Vajiraklaochaoyuhua's coronation as well as the 266th anniversary of the establishment of Siam Nikaya in Sri Lanka. The religious event will also mark over 700 years of relations between Thai and Sri Lankan Buddhists.
The relics will be open for the public to pay their respects for a total of 32 days, between December 10 and January 10 next year. People will be able to pay their respects in rounds each day. The first round will be at 6:30 a.m., the second at 10:30 a.m. and the third at 5 p.m. Sermons and teachings will also take place on Saturdays and religious holidays throughout the period. Those wishing to pay respects are asked to dress appropriately in all white.