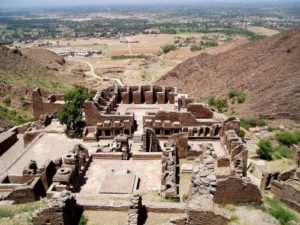 RELIGIOUS tourism is an important part of the tourism industry and is also called special interest tourism.
It is usually related to the followers of specific faiths who visit sites that are considered holy sites.
Religious sites are not only visited by the pilgrims but also visited by non-religious tourists since they have cultural, historical and religious significance.
In this inescapable era of information and technology where the whole world has become a global village, Pakistan outshines in many ways and holds a repository of ancient civilization and cultural heritage.
Though Pakistan is a Muslim state yet it has saved and perpetuated most of the religious sites, buildings, or commodities of other religions, in which one of them is Buddhism.
Buddha was born in India, but Buddhism flourished from the region of Pakistan. It is necessary to promote and project Pakistan as a land of peace as well as a repository of rich Buddhist heritage.
In contrast to India's conquest of Buddhism's multimillion-dollar tourism market and brand as the land of Lord Buddha, Pakistan's participation in its Buddhist tradition has received significantly less attention despite having more Buddhist sacred sites than the land of Lord Buddha.
Chief Monk of Thailand Arayawang so concluded his three-month rainy season retreat or "Vassa" in Taxila with a message of "peace extended to the world from the land of Pakistan", particularly the 32 Buddhist countries.
He expressed his gratitude to Pakistan for making arrangements of his stay in Taxila. With this visit, the bond of friendship and inter-faith harmony would grow stronger between Pakistan and Thailand Buddhists.
He encouraged people from Buddhist countries to visit this wonderful land which was once the centre of great Buddhist Civilization.
A Kathina Ceremony or "offering of robes and other gifts" marked the end of the rain retreat.
In the past, Pakistan never had such a large number of Buddhist tourists all together, this is the beginning of a new era in religious tourism.
The country will become the next major destination for Buddhist religious tourism. Pakistan possesses a vast untapped potential for worldwide religious tourism due to its rich heritage and history if adequate security is provided for foreign religious tourists.
Buddhist Sites in Pakistan: Buddhism in Pakistan took source some 2,300 years since under the Mauryan king Ashoka.
It has performed a vital position in the history of Pakistan, it has been part of mostly Buddhist domains such as the Indo-Greek dynasty, the Kushan authority, the Maurya authority of Ashoka, the Pala authority.
The holiest Buddhist religious sites are Taxila and the Buddhist Ruins of Takht-i-Bahi, and the Remains at Sahr-i-Ahlool.
These landmarks can market the country as the world's most popular Buddhist destination. There are hundreds of sites scattered across Pakistan.
Taxila is the first stop by the foreign tourists particularly Buddhists. It has promoted sculpture, architecture and education in Buddhism.
Over 50 sites of archaeological importance are scattered within a radius of 30 kilometres around Taxila. Pakistan's Buddhist history includes the stuff of myths and legends.
From the authoring and recitation of the Mahabharata, the greatest Hindu epic, in the Gandhara region during the early historical period to the pre-eminence of the ancient heartland of Buddhist learning, the region has a long history of cultural significance.
Dedicated attention to Buddhist sites can place Pakistan on the international tourist map and energize the Buddhist heritage route throughout the Gandhara region.
Major Buddhist regions: Gilgit-Baltistan: Buddhism came to Gilgit in the late 7th century and had Buddhist majority till the 15th century when most of the masses were practicing Bon religion.
Its archaeological places include; Manthal Buddha Rock, a rock relief of Buddha on edge on a village near Skardu and Sacred Rock at Hunza valley.
Gandhara: The most of people in Gandhara, present-day Southern KP province, were Buddhists.
There are many archaeological areas from the Buddhist time in Swat valley. The Buddhist scholar Kumâralabdha of Taxila was similar to Aryadeva, Aúvagho? a and Nagarjuna.
Uddiyana: The Buddhist guide Padmasambhava is said to have been born in a village near the present-day town of Chakdara in Lower Dir District, which was then a division of Oddiyana.
The Padmasambhava is known as Guru Rinpoche in Tibetan, and it is he who introduced Vajrayana Buddhism in Tibet.
Impact of religious tourism on Pakistan's economy: From ancient times, religious destinations have been a part of the cultural landscape.
They are vital for local marketing and prime parts of the economy of hosted destinations. Religious tourism in Pakistan provides Muslims and non-Muslims with the opportunity to travel together to sacred sites and pilgrimages.
Pakistan is known around the world for three major religions: Islam, Sikhism and Buddhism.
According to analysts, allowing international tourism in Pakistan at the same pace as the rest of South Asia would result in a $1.5 billion increase in GDP.
In 2019, 5.9% of the country's GDP was attributed to tourism, which helped in the creation of nearly 4 million jobs.
Pakistan government can earn more than a million of revenue by providing adequate facilities to the Buddhist tourists.
Apart from image restoration, religious tourism can contribute enormously in amplifying Pakistan's economy by projecting the Muslim, Hindu, Buddhists and Sikh sites existing in the country.
Pakistani officials have taken quite some measures for the development and progress of tourism.
Pakistan's economy has been persistently pretty dull with regard to tourism. More special policies and attractive tour packages for foreign tourists are required particularly for Japan, China, Singapore and South Korea to visit Buddhist sites at Takht-i-Bahi, Taxila, Peshawar and Swat.
—The writer has remained associated with the Institute for Strategic Studies and ISPR