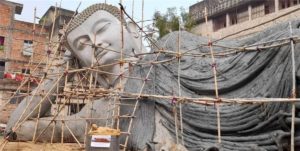 Bodh Gaya, the holy town in Bihar, where Gautama Buddha attained his enlightenment, attracts pilgrims and travellers from home and abroad. Main pilgrim attractions include the Mahabodhi Temple, a UNESCO World Heritage Site, which enshrines the Bodhi Tree under which Buddha gained his enlightenments and the holy spots where he spent the next seven weeks meditating, as well as the monasteries belonging to various Indian Buddhist sects and nearly every Asian country where Buddhism is followed.
Very soon the town will see the installation of one of the tallest Buddha statues in India. As of now, the likely date is set for Buddha Purnima in 2022.
Led by sculptor Mintu Pal of Kolkata, a team of artisans are working hard to ready the 100 feet tall reclining statue made of fiberglass, which will be then carted to Bodh Gaya to be installed in the Buddha International Welfare Associations temple. According to some sources, this is going to be the tallest reclining Buddha statue in India. In comparison, India's most famous reclining Buddha statue located in the Mahaparinirvana Stupa in Kushinagar (Uttar Pradesh) is a little over 20 feet tall. Height of the monolith standing Buddha statue in the middle of the Hussain Sagar Lake in Hyderabad is around 58 feet.
According to media reports, Pal had started work on the statue in March 2019 but work was stalled due to the COVID-19 lockdown. They resumed work in November. The reclining Buddha is being constructed in parts at a park in Baranagar (a suburb to the north of Kolkata) and will be assembled by Pal and his team on site in Bodh Gaya.
Bodh Gaya is also home to a seated Maitreya Buddha statue, 80 feet tall, which is part of the Daijokyo Buddhist Temple. It was consecrated in 1989 by the Dalai Lama.
Incidentally, Pal had constructed the much talked about 80 feet Durga idol for a neighbourhood organisation during the autumn festival in 2015.