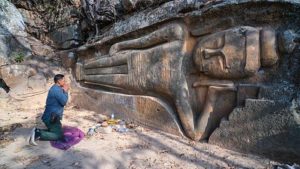 A large carving of a reclining Buddha is one of the latest ancient sites discovered in Cambodia as locals scour the country for lost history
Many hope such finds will help create long-term growth in tourism in the poor Southeast Asian nation
Stories of a large rock-face carving of the Buddha on Kangva hill, in Cambodia's Pursat province, had long been told in the village at the foot of the hill, but no one alive remembered seeing it.
Local legends of giant snakes and earth spirits, or neak ta, had largely kept villagers away from the low hills that straddle the border of Pursat and Kampong Chhnang provinces, on the western banks of Tonle Sap lake. That changed last year on the morning of November 27.
"Bun Sopheap was scrambling over the rocky hill with four women from the village when he saw it," says Eng Kunthea, boss of the Cambodian People's Party in Krakor district, Pursat province.
"Straight away, an unknown old lady appeared and hugged him, crying with joy and thanking him for finding the carving. As the other four women caught up with Bun Sopheap, the old lady disappeared, and then everyone prayed for protection. She was a guardian spirit, and only Bun Sopheap saw her."
Eng Kunthea, an adviser to Deputy Prime Minister Sar Kheng, understands the tourism potential of this dusty district of central Cambodia. He is helping bankroll the rediscovery of local sites lost to history as a way of attracting visitors and preserving the country's past.
The reclining Buddha faces south and is exposed to the elements. A team of young monks based at the local pagoda spent a day digging out the semi-buried statue to reveal its true size. At 6m (20ft) long and 2.5m tall, it was a large cultural gem to lose to history.
The condition and style of the carving suggests it is from sometime between the fourth and seventh centuries, Eng Kunthea says. Later Buddha carvings, for example from the Oudong era (17th to 19th centuries), look different.
Post Magazine Newsletter
Get updates direct to your inbox
By registering, you agree to our T&C and Privacy Policy
"There is a design difference compared to some carvings at Samtuk and Baseth mountains from the Oudong era," Eng Kunthea explains, sitting in the Krakor district party offices. "The Buddha [on Kangva hill] looks ugly, with little design detail, and the hairstyle looks messy and unrefined. And the Buddha has no proper clothes; he has only a skirt."
Bun Sopheap, who discovered the reclining Buddha carving, on his new task of excavating a nearby small cave on Kangva hill. Photo: Peter Ford
Bun Sopheap, who discovered the reclining Buddha carving, on his new task of excavating a nearby small cave on Kangva hill. Photo: Peter Ford
Historic Buddhist carvings can be found at sites across Cambodia, but the newly found Pursat Buddha is the first of its size to be rediscovered, as far as officials from the Ministry of Culture and Fine Arts can recall. Larger Buddha figures in Cambodia have been worshipped for centuries, rather than lost to human memory.
The origin of the new finding remains, for now, something of a mystery, as the culture ministry and several archaeologists disagree with Eng Kunthea's historical analysis.
"The culture ministry is not exactly sure about the age of the Buddha, but according to my examination of the objects around there and the condition of the carving, I think it was made to honour a military event or an important person in the Oudong era," says Heng Kamsan, director of the ministry's archaeology department.
Dr Martin Polkinghorne, senior archaeology lecturer at Australia's Flinders University, agrees. He is collaborating with the ministry on research into Cambodian history after the Angkor era, which lasted from the ninth to the late 14th century and left behind a rich legacy.
"It is highly unlikely that the reclining Buddha in parinibbana [the "nirvana after death" posture] is fourth to seventh century as suggested," he says. "The style of the carving and iconography of the monastic robes appear to associate this sculpture with the middle or early modern period, from the 16th century or later."
Further muddling the statue's provenance, pottery and jewellery unearthed at the site includes a pre-Angkorian necklace, suggesting the carving's creators, or perhaps worshippers, brought the precious items to the site. (The site could, though, have predated the statue as a holy place.)
If a lot of tourists visit [the Buddha], then we can afford things like new clothes. Maybe a school can be built for local children, and I'll even attend and learn to read better Villager Thorn Thoeurn
Architectural evidence from across Pursat province points to the importance of the area during the 16th century, when Cambodian King Ang Chan is believed to have returned from exile in Ayutthaya, in modern-day Thailand, Polkinghorne says.
Historic and cultural tourism has been financially rewarding for some rural Cambodian districts. Before the coronavirus pandemic erupted, crowds of foreign tourists paid US$37 a head for a day pass to visit the famed Angkor Wat temple complex
near the Cambodian city of Siem Reap, and nearby shops, hotels and restaurants were geared to a massive daily influx of visitors.
Buoyed by the idea that future visitors would want to see sites linked to King Ang Chan and other notables from Cambodian history, local villagers comb nearby hills looking for possible treasures and sites.
"If a lot of tourists visit, then we can afford things like new clothes," says villager Thorn Thoeurn, pointing to the threadbare printed blouse worn by his neighbour. "Maybe a school can be built for local children, and I'll even attend and learn to read better," adds the retired cassava farmer, who now acts as an unofficial guide for curious visitors.
Excavations at one nearby tree-covered hill unearthed some as-yet-undated pottery. The site has since been decorated with coloured bunting and silk, and transformed into a Buddhist shrine. A French colonial military watchtower holds further tourism potential, as do various areas of natural beauty on the forested slopes; oases of green overlooking the dusty farmland below.
"We had stopped listening to the stories of the old people in the community, but now people are remembering the stories of our youth about historic sites, locations of spirits and natural beauty," explains Nyorn Channy, another farmer-turned-guide. "We have recently found a cave, and whatever we find next, of course we will tell Eng Kunthea first."
The Buddha discovery has had unexpected benefits, he adds. "Before, no one paid much attention, but now we are always looking more closely. And because we are taking an interest in the area, it's harder for illegal loggers and poachers to get away with forestry crimes. The authorities pay more attention now, so we are very happy."
While the pre-Angkorian Sambor Prei Kuk temple complex in central Cambodia was recently designated a Unesco World Heritage Site
, and excavations at former capital Longvek by Polkinghorne and ministry experts have shed more light on the country's post-Angkorian history, the Cardamom Mountains to the west have given up their secrets more slowly.
The discovery of cave paintings depicting men riding elephants
, and burial jar sites dated from the 15th to 17th centuries at various sites across the mountains, point to an animist, non-Buddhist culture that was unlikely to be linked to the recently found Pursat site, says New Zealand-based researcher Dr Nancy Beavan, who worked with the ministry at several of the jar sites.
"The cave paintings, and especially the finely wrought Buddha carving [in Pursat], suggest a familiarity with Buddhist iconography or traditions. But rock art and carvings have never been found in association with the 15th to 17th century jar burial sites, which are themselves a legacy of an ancient highland people who likely had animist traditions," she says.
As the once heavily forested Cambodian countryside is increasingly cleared to make way for farming, other forgotten sites are being uncovered. In February, soldiers stationed in Oddar Meanchey province along the border with Thailand reported finding an Angkor-era temple complex, while local media periodically report farmers unearthing old statues and pottery.
While the culture ministry decides how to best protect the latest Buddha finding in Pursat from the elements and seasonal forest fires, Eng Kunthea has a team of villagers scouring the hills looking for more sites.
He has asked four men – including Bun Sopheap, who discovered the Buddha carving – to dig out a nearby narrow cave in hopes that it will lead to a larger cave complex and possibly historic treasures inside.
"Do you think this is man-made?" Eng Kunthea asks, pointing to holes and marks on the cliff face, not pausing for an answer. "It must be. We know people used to live here in ancient times, and it is important for this community, and Cambodia, that we continue to discover more about them."