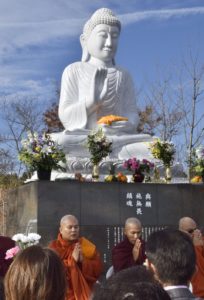 A consecration ceremony was held Monday for a Buddha statue donated by Myanmar for victims of the devastating 2011 earthquake and tsunami that hit northeastern Japan.
Monks from the Southeast Asian country, which also suffered damage from the 2004 Indian Ocean tsunami, offered prayers in front of the 5-meter-high marble statue.
It was placed last month on a hill overlooking Shizugawa Bay in the town of Minamisanriku, Miyagi Prefecture. The hill is in a forest park created by the operator of Minami Sanriku Hotel Kanyo to commemorate the disaster that left more than 15,000 people dead.
A Myanmar trading house gave the statue to the hotel operator, which had shown officials of the company around the disaster-hit area.
"While this may be minuscule for the rebuilding, I hope it will be a tourism resource to bring about exchanges between people," said Maung Htet Myat Oo, the 52-year-old co-head of Tomosada International Trading Co.
"I'm full of emotion, seeing the Buddha statue installed in a place that looks over our community," said Yasuhiro Abe, 56, president of the hotel operator Abecho Shoten Co.
Abe's company is known for hosting bus tours around the disaster-stricken coastal area and keeping the remains of a tsunami-hit wedding center, where more than 300 people took refuge.