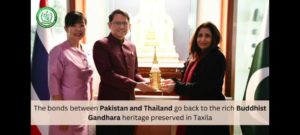 ISLAMABAD, Jan 20 (APP): Thailand has gifted a state-of-the-art container for the bone relics of Lord Buddha to the Taxila Museum.
The container was handed over at a ceremony held at Taxila Museum, which was attended by diplomats from the Embassy of Thailand, senior officials from the Ministry of Foreign Affairs and the Director of Taxila Museum.
Ambassador of Thailand Chakkrid Krachaiwong presented the container to the Additional Secretary (Asia Pacific) and Spokesperson Mumtaz Zahra Baloch, who received it on the behalf of Pakistan.
The container with the holy relics will be on permanent display at the Taxila museum.
The ancient city of Taxila carries a special significance in the history of Buddhism and Pakistan's enduring links with East Aida including Thailand.