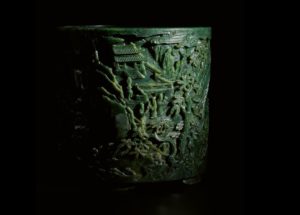 More than 300 Chinese works of art gifted by philanthropists and Asian art collectors Florence and Herbert Irving to The Metropolitan Museum of Art in New York will be offered during Sotheby's Asia Week in September.
Proceeds from the sale will fully benefit an Irving Acquisition Fund established by the museum to diversify its art collections. Sotheby's didn't disclose the total estimate of the collection.
In March 2015, the Irvings donated almost 1,300 works of art to the museum's Department of Asian Arts for its centennial. At that time, they agreed that the Met could sell any of the works as long as the proceeds went toward future acquisitions.
READ MORE: Qing Dynasty Jade Washing Bowl From the Irvings Collection Sold for US$3 Million at Christie's
Herbert Irving, one of the founders of Sysco Corp., the world's largest food-services provider, died at his Manhattan apartment overlooking The Met in October 2016, at age 98. Florence died in July 2018, also at 98.
The Irvings made generous donations through the decades to the Met, which named its Asia art wing for the couple in 2004. Additionally, the Irvings donated more than $300 million to Columbia University Medical Center in New York.
"Our sales are representative of the Irvings' exceptional taste in Chinese art," says Angela McAteer, head of Sotheby's Chinese works of art department in New York, "which features a strong emphasis on organic materials and works hewn from nature, as well as extraordinary Chinese jades produced during the reign of the Qianlong emperor."
A white and apple-green jadeite "Landscape" table screen is expected to fetch up to $120,000 at Sotheby's this September. Courtesy of Sotheby's
Leading the sale is a finely carved spinach-green jade brush pot, formerly in the collection of English businessman and art collector Alfred Morrison (1821-97), and kept at Fonthill, his famed English country house.
The brush pot is an extremely luxurious item for the scholar's desk. It was made from a large, high-quality boulder that would not have been easily available before the Qianlong Emperor's 1759 conquest of the Western Territories—areas where such jades were produced.
The carvings feature immortals surrounded by auspicious elements, such as deer and lingzhi, a Chinese medicinal herb that is regarded as the "herb of spiritual potency."
The brush pot has a presale estimate of between $500,000 and $700,000.
Including the brush pot, over 120 archaic and Qing dynasty (1644-1911) jades along with porcelain, sculptures, and objects for the scholar's studio will be auctioned in a dedicated sale on Sept. 10 at Sotheby's New York.
Additional items will be sold at Sotheby's Asian Art auction on Sept. 14. Public exhibitions will open in Sotheby's New York galleries on Sept. 6.