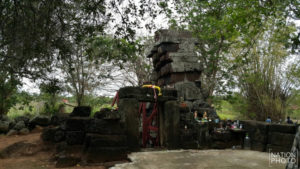 Thailand
A local politician along with archaeologists from the Fine Arts department are in Nakhon Ratchasima to survey a thousand-year-old Sarapleng stupa build in ancient Khmer style.
Bhumjaithai MP Apicha Lertpacharakamol said that Ministry of Tourism and Sports wants to support local attractions and the economy in the area including the stupa, which boasts a sandstone lintel and was constructed next to a pond to its northeastern and a Baray, an artificial body of water common to the architectural style of the Khmer Empire. The Fine Arts Department registered the area on which the Sarapleng stupa stands in the Government Gazette, Book 53, Chapter 34, September 27, 1936, and in Book 98, Chapter 104, June 30, 1981, listing the size as 32 Rai 3 Ngan 96 Wah. The department will propose a budget in order to investigate further and develop the area as a tourist destination.
He added that this topic was discussed in a local community meeting and that agreement had been reached to cooperate with the fine art department to develop these abandoned historical remains.
Chamnan Kritsuwan, director of the 10th regional office of the Arts department at Nakorn Ratchasima, said after surveying the area that the archaeologists have to research and identify the origin and history of the area before restoration can take place. Early investigations show that the remains were built around the 16th – 17th Buddhist century and influenced by Mahayana Buddhism in the reign of Jayavarman VII. The restoration budget is expected to be at least Bt2 million not including the tourism promotion budget.