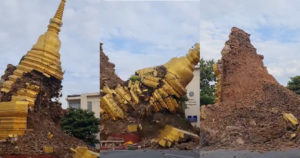 Glass and bronze Buddha statues were found amongst the rubble.
Donations are being sought for the restoration of a 500-year-old pagoda in Thailand that collapsed on Thursday (Sep. 29) after heavy rain.
Located at Wat Sri Suphan in Chiang Mai's Muang district, footage of the incident showed the moment the damaged structure crumbled into a heap.
No casualties were reported, according to The Bangkok Post.
Heavy rain for days
The temple compound, within which the pagoda had previously stood, was built in Thailand's Lanna period (13th-15th centuries).
Thailand's culture minister Itthiphol Kunplome cited an initial inspection that found a collapse of the external surface of the pagoda had damaged its inner brick core.
According to Thaiger, days before the incident, the pagoda — which was more than three storeys tall — was seen leaning to one side.
Cracks were also discovered at the structure's base.
The area was eventually sectioned off in anticipation of the eventual collapse, which was preceded by days of rain.
The abbot of Wat Si Suphan explained that as the pagoda was not a registered ancient building, they did not have a budget for its maintenance, reported Thaiger.
Buddhist relics found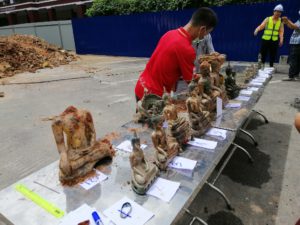 The pagoda was a stupa which housed ancient Buddhist relics; glass and bronze Buddha statues were found amongst the rubble.
Image from Wat Sri Suphan's Facebook page
According to The Bangkok Post, the Ministry of Culture has instructed the country's fine arts department to expedite an inspection to restore the pagoda.