They were found beneath the foundation of a temple at Chandavaram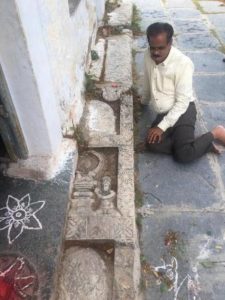 First century Buddhist panels were found in utter neglect beneath the foundation of a medieval temple at Chandavaram village, near Kurichedu, in Prakasam district even as the world celebrated the 'Heritage week'.
Basing on an information provided by a local historian Jyoti Chandramouli, Buddhist Archaeologist and CEO of Cultural Centre of Vijayawada and Amaravathi (CCVA) Sivanagireddy inspected the 2000-year-old antique panels in the remote village.
Four huge panels depicting the Buddhist symbols of vajrasana (the seat on which Siddhartha meditated), Bodhi tree(under which Siddhartha got enlightenment), Dharmachakra(Buddha setting the wheel of Dharma into motion) and a stupa (symbolic representation of Buddha attaining Mahaparinirvana) were used as the foundation course for the walls of Mahabaleswara temple in the village.
Amaravathi School of Art
Dr. Reddy said that these panels, measuring 6 ft in height, 2.5 ft in width and 8 inches in thickness, were encased in the stupa during the Satavahana times. He said the panels represent the early phase of world famous Amaravathi School of Art.
"It is high time the panels are removed by inserting iron girders, using latest technology, without causing damage to the temple structure. The cavity could be filled with concrete wall for safety purpose," he suggested.
Dr. Reddy, along with Golla Narayanarao, president, Andhra Arts Academy and others sensitised the local people on the archaeological significance and historical importance of the Buddhist panels.