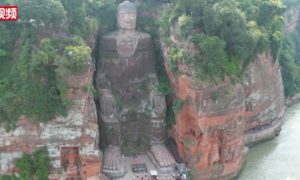 Affected by continuous high temperature and low precipitation, the river flow of the Dadu River, Qingyi River, and Minhe River has diminished significantly in Leshan, Southwest China's Sichuan Province. The Leshan Grand Buddha, located at the confluence of the three rivers, is the tallest stone Buddha statue (71 meters in height) in the world. Recently, the giant Buddha showed its whole body, which has attracted many tourists, because the stones under the Buddha's feet were drowned by the flood in 2020.
Since late July, rainfall in Leshan has been 40 to 80 percent less compared with the same period in previous years. At present, the altitude of the Leshan Grand Buddha platform's water level is only about 354 meters, which is nearly 2 meters lower than the average water level in August. The local government has launched an emergency response to the drought.
This is not the only case in which places of interest are affected by the weather. In 2021, due to the continuous heavy rainfall in North China's Shanxi Province, partial Pingyao ancient town collapsed, Taiyuan Jinci Temple experienced leaks, and thousands of ancient buildings were destroyed.
Many netizens called attention to weather changes and relics protection. Some joked that the Buddha doesn't wear slippers, while others appealed to improve water conservation and drought resistance techniques.